Sushil Kumar Solanki is an Indian freestyle wrestler. Competing in the 66 kg weight division he won the 2010 world title, a silver medal at the 2012 London Olympics and a bronze medal at the 2008 Beijing Olympics, which made him the first Indian to win back to back individual Olympic medals.
Sushil Kumar Wrestler Biography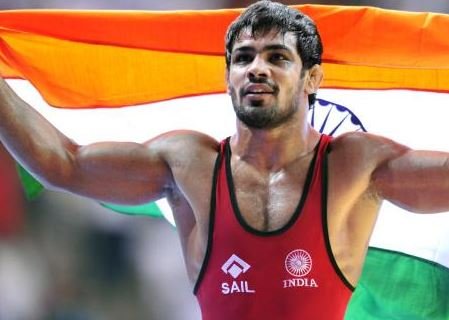 His 2008 Olympic medal was second for India in wrestling, and the first since Khashaba Dadasaheb Jadhav's bronze medal at the 1952 Summer Olympics. In July 2009, he received the Rajiv Gandhi Khel Ratna – India's highest honour for sports persons. On 3 October 2010, Kumar handed the Queen's Baton to Prince Charles in the Queen's Baton Relay for the 2010 Commonwealth Games Opening Ceremony. Sushil won the gold medal in the 74 kg division at the 2014 Commonwealth Games.
Sushil Kumar Biography
Sushil was born on 26 May 1983 in a Hindu Jat family in Baprola. Sushil's father Diwan Singh was a DTC bus driver and mother Kamla Devi is a housewife. He was inspired to wrestling by his cousin Sandeep and his father, who wrestled themselves.
Financial condition of his family was poor but they did not deter him to make a career in wrestling. Sushil trained at the akhada in the Chhatrasal Stadium from the age of 14. He handed the Queen's Baton Relay in 2010 Commonwealth Games Opening Ceremony and won the gold medal in 2014 Commonwealth Games.
Sushil Kumar Personal Profile:
Full Name : Sushil Kumar Solanki
Popular As : Sushil Kumar
Date of Birth : 26 May 1983
Birthplace : Baprola, Delhi, India
Age : 32 years
Height : 5'5″
Weight: 66 kg
Religion : Hindu
Marital Status : Married
Spouse : Savi Kumar
Father Name : Diwan Singh
Mother Name : Kamla Devi
Father-in-law : Satpal Singh
Coached by : Gyan Singh, Rajkumar Baisla Gurjar,Satpal Singh
Occupation : Wrestler
Nationality : Indian
Sushil Kumar Family/Wife/Marriage
Sushil got married to Savi in 2011. Savi is the daughter of well-known wrestler Satpal Singh. She is also a tennis player and played at the national level. They have twin boys.
Sushil Kumar Coach
Olympics medallist Sushil Kumar coached by Gyan Singh, Rajkumar Baisla Gurjar and Satpal Singh. The former wrestler Satpal Singh was awarded Padma Bhushan, the third highest civilian award of India, in 2015. Satpal Singh trained Sushil for the Beijing Olympics 2008 and London Olympics 2012.
Sushil Kumar will soon be seen as a fourth judge in MTV's reality show Roadies X4. Roadies x4, is the thirteenth season of MTV popular reality television show Roadies. The show is a youth-based popular reality television show on MTV India.
Sushil Kumar Career
Kumar was trained at the akhada by Yashvir and Ramphal at the age of 14. His first success came at the World Cadet Games in 1998 where he won the gold medal, followed by a gold at the Asian Junior Wrestling Championship in 2000. In 2003 Kumar won the bronze medal at the Asian Wrestling Championships and a gold at the Commonwealth Wrestling Championships.
He won a silver medal at the 2012 Summer Olympics, becoming the first person to win two Olympic medals for independent India. He was awarded the Arjuna Award in 2006 and a coveted Padma shree by the Indian Government in 2011.
Sushil Kumar Olympic Games
Bronze medal, 2008 Beijing, 66 kg Freestyle
Silver medal, 2012 London, 66 kg Freestyle
World Championships
Gold medal – 2010 Moscow
Commonwealth Games
Gold medal – 2010 Delhi
Gold medal – 2014 Glasgow
Sushil Kumar Asian Games
Bronze medal – 2006 Doha 66 Kg Freestyle
Asian Wrestling Championships
Bronze medal – 2003 New Delhi 60 kg Freestyle
Silver medal – 2007 Bishkek 66 kg Freestyle
Bronze medal – 2008 Jeju Island 66 kg Freestyle
Gold medal – 2010 New Delhi 66 kg Freestyle
Commonwealth Wrestling Championship
Gold medal – 2003 London 60 kg Freestyle
Gold medal – 2005 Cape Town 66 kg Freestyle
Bronze medal – 2005 Cape Town 66 kg Greco-Roman
Gold medal – 2007 London 66 kg Freestyle
Gold medal – 2009 Jalandhar 66 kg Freestyle
Sushil Kumar Pics, Images and Photos
Rannvijay Singh Singha Biography
Sushil Kumar On Social Media
Wrap Up
We love Sushil Kumar for his dynamic personality and if you also do love him for his acting, VJ and fitness freak, comment below and share the article as much as you can on social media. 🙂