Reputation online has become even more important because the number of people accessing the internet has continued to increase. This is why you will find big companies spending a lot of money on reputation management strategies. When you go online and see more information about it, you will find that the information is positive.
Many brands put a lot of thought on how they are going to be viewed by users because it will have a big impact on the reputation of the brand and the company at wide. Having the right strategy will help you take full control of your reputation online.
One common mistake that many small businesses do is thinking that they do not need to have an online reputation strategy because they are not a big brand, but this is never a good idea. A small business stands to benefit a lot from investing in reputation management online.
You should first start by thinking about your own consumer behavior. Let's say you want to book a hotel. You will most likely start by looking at the reviews, the website of the company, and their social media platforms. The listings and search results will have a big impact on your decision.
Reputation management is important for all types of businesses and you can be able to build your own brand reputation online without having to spend a lot of money. Reputation management online, is all about the controlling of how the business and products are being perceived, and also maintaining a positive reputation.
Reputation can be broken down into three sections:
Building the company and brand reputation – Whether you want to start a new company, launch a new product, or branching out to a new customer base or industry, the main goal will be building the name of your brand and business.
Maintaining the company and brand reputation – Once you have a good reputation online, you don't have the luxury of sitting back and expecting it will continue without having to maintain it. Reputation management is very important even if you have a good reputation process. It is always an ongoing process.
Recovering the company and brand reputation – One bad review or comment is all that it takes for your company's positive reputation to be affected. The way to recover from this is through positive and strategic marketing and promotion.
How can you manage the online reputation of your business?
Focusing and being aware
You should always be listening to your customers and also identify your target market. The internet has made it very easy for a person to keep up with the latest industry developments, news, and even competition, which could all help in steering how you are going to act online.
Many businesses make the mistake of thinking they know what their customers want, and they don't see the need of listening to them. This is where most go wrong.
Monitoring your reputation
You should go online and search for the business on a regular basis so that you can monitor how you are faring on the search engine results and the type of feedback you get. You should start by knowing what it is you can control and what you cannot control.
The best option you have is hiring a reputation management company because they have the experience and some of the best tools in the market. They are able to handle any problem in the area of reputation management.
There are some people prefer to do it on their own by using tools such as Social Mention, Google Alerts, or any other tools that can help you with this.
Being authentic and honest
There are no people who will be looking forward to reading corporate content, so you should make sure that the tone you are using on your social media platforms is human and also fits the target audiences.
If you want to be seen as being trustworthy, you will need to be open and transparent; and this means reacting positively to any negative posts and commenting instead of covering it back using marketing-spiel which can easily encourage trolls.
Creating quality content
Many small businesses don't want to spend a lot on reputation management, and this will mean having content that is not quality. You need to produce quality content that the customers will be looking forward to reading, and it should not just be a self-promotional copy, which can be a turn off for most of the customers.
You should always have reciprocation in mind and engaging with your audience instead of using direct sales approaches all the time.
Reacting and engaging
If you are interested in establishing and maintaining a good reputation, then you need to respond quickly so as to build good relationships. If you delay in responding to posts, tweets, questions, and comments, then you could be damaging your online reputation.
Being social
When used in the right way, social media platforms can be effective in shaping the reputation of the company or brand. You should not start looking for overnight results, because it will take some time to build up a genuine profile. You should always be strategic while also focusing on the value of having real connections.
Starting a blog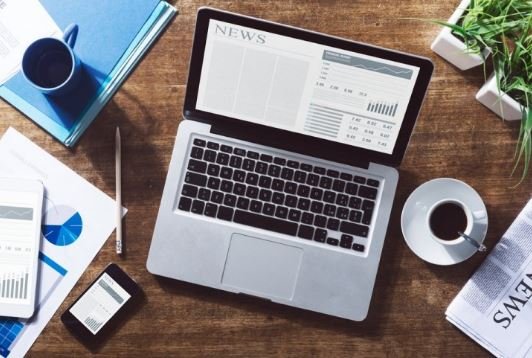 A blog will help in getting out information about your company or even attracting customers through tips and observations. It can also help in establishing you as an industry expert. The blog should be regularly updated.
Encouraging reviews
Feedback is very important and valuable for any business. You will be able to know who you are interacting with and also give you a rough idea into your reputation.
You should always welcome reviews because 90% of people will believe what they are going to read, and this is according to a study recently done. You should not even think about paying for a positive review because it will have long-term consequences.
Having a good online reputation is very important because many prospective customers will judge you from what they see online. So you should have a good strategy in place so you can have a positive one.