Is it possible to meet real love on the Internet? You or your friends got acquainted with a girl on the Internet, started to communicate, and now you are sure that this is love (or even don't mind marrying a Russian woman). Maybe yes, but maybe there is sitting not a smart brunette in front of another computer, but a person that is quite different from a beauty from a photo, or even a woman you know and don't really like.
List of Famous Films About Virtual Love
In general, if the theme of the relationship on the Internet is interesting for you, then it is worth watching these amazing films of virtual relationships from our list for finding the answer. Also, you can read the article about Russian vs American girls if it is interesting for you and you don't know who is better.
1) "You've Got Mail"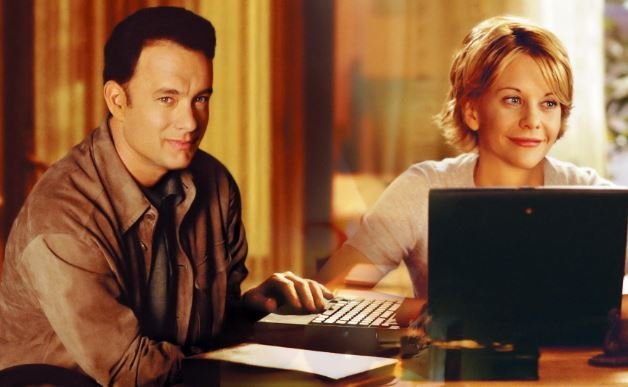 Perhaps, one of the most famous movies about dating on the Internet. Largely due to the star couple Meg Ryan and Tom Hanks. Joe and Kathleen met on the Internet. Joe has a girlfriend, Kathleen has a boyfriend. But they trust very important things each other.
Kathleen owns a small bookstore with children's literature, Joe is a tycoon who opened a huge chain of bookstores. And this is a ruin for Kathleen… This is a very interesting story about how different people can behave online and in real life.
2) "Eurotrip"
Everyone knows that it's easy to make mistakes on the web and take a girl for a boy. In this film, the love story begins with correspondence between an American teenager and a beautiful German woman, although the main character thinks that this is a boy.
Despite a large amount of American humor, the story turned out to be beautiful and like a real fairy tale. This is one of those films that people like to watch in the evenings. A rare thing when you can just relax and enjoy the simplicity of the film. And it surely might impress a Ukrainian girl, if you have already got acquainted with her.
3) "Trust"
Trust but check! – and, first of all, it concerns Internet dating. In the network, everyone can pretend to be someone. The film is not only about Internet dating; the film involves deeper problems – it is about how to survive grief, about the trust between family members. Don't watch the movie if you are in a bad mood.
4) "Must Love Dogs"
This film attracts with its originality from the very beginning. There you may find the answer to the eternal question of "Where to get acquainted?". The film is about a dating site, dates, difficulties of choice, and how difficult it is to open up before another person.
5) "Christmas in Boston"
A sweet romantic comedy about Gina and Seth who finally got a chance to meet after 13 years of correspondence. But the heroes are not very happy. After all, all these years they sent each other photos of their best friends.
6) "Meet Prince Charming"
Samantha gets acquainted on the Internet with a nice and kind guy, to whom she can entrust the most intimate. But the girl doesn't know that her soulmate is a malevolent neighbor, whom she hates. The film is interesting and romantic – great for a good evening.
The Internet has firmly entered our life: people work and get acquainted there – so why don't you use it for finding a life partner? Watching these films you will understand that acquaintance through the Internet can become the beginning of a new life stage.
You can communicate with people from any country, any age, and status, and therefore – to increase the chance of finding a person with similar interests and tastes. Millions of users on many sites are looking for their soul mate, and many are already found. It is only necessary to choose a suitable site for joining the number of those lucky ones and click on the button "Register" – and your life will change! 🙂