Makar sankranti, also known as the kite festival is a popular Hindu festival. It is known as a different name according to the state. In Punjab,this festival known as Maghi. It is known as the "KHICHIRI" in Uttar Pradesh. In Gujarat and Rajasthan, this festival is known as Uttarayan.
Why To Fly Kite In Occasion Of Makar Sankranti? Reason!
Makar Sankranti is a holiday observed by Hindus. All enthusiasts love flying kites from their rooftops. The sky fulfill with kites on this auspicious day. In the morning People see their heads to bow in front of supreme power.
Makar sankranti is a festival devoted to the Lord Sun. The God of energy is worshiped for bestowing nurturing livestock and grate crop in the farm.The oxen and Bulls are worshiped for his or her value in furloughing fields.
Makar Sankranti indicates the arrival of springtime, the season of fruitfulness. In the winter the farm grows with a crop of sugarcane,sesame,and soft seeds. Across India, housewives prepares sweet generated from till-basic combination of jiggers and sesame,or laddus Etc.
Kite Competition Is Happening in various Part Of Country 
Kites of all shapes and sizes are flown ,and the main competition is to battle nearby kite-flyers to cut their strings and bring down their kites.For this,people find their favored kite –makers who prepare strong resilient kite bodies with the springy bamboo frames and kite papers stretched exactly the right tension.
And finally,the kites are attached to a spool of manja, special kite string coated with a mixture of glue and glass to be as sharp as possible for cutting strings of rival kites.
International Kite Festival in Ahmedabad, Gujarat
In India Gujarat is one of the state famous for its International kite festival.Every year this festival is organize on the land of the Ahmedabad,Gujarat.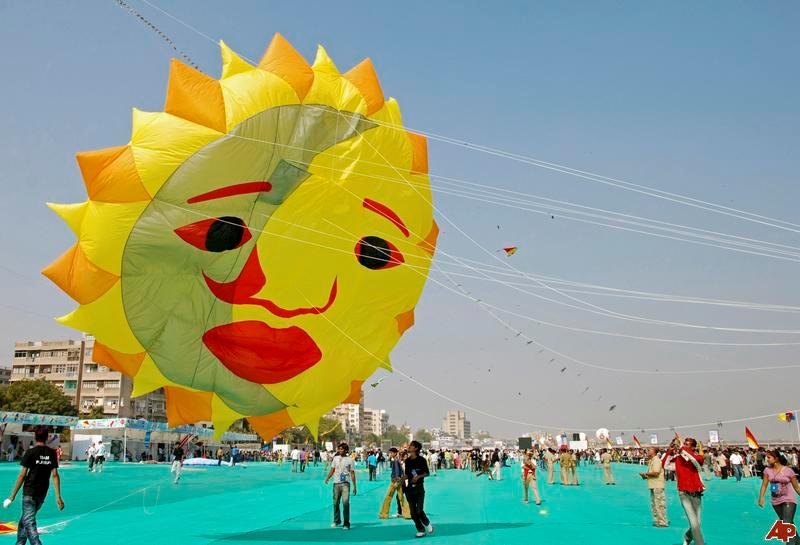 Production of kites and spools be seen on the streets of Ahemedabad beginning in November,to get ready for Uttarayan,and nowhere more so than in Patang Bazaar,the special kite market that appears in the old city. For fulfill the demand  of kites and spools to the kite lovers  this bazaar opened  24 hours.
An event is best experienced at the heart of all of the action.A perfect example of this was Makar Sankranti or Uttarayan –the kite flying festival attended in Ahemedabad,Gujarat. An experience will cherish forever.
Makar Sankranti Wishes
Ye saal ki "MAKAR SANKRANT" apke liye til-gul jaisi mithi aur 'PATANG' jaisi unchi udan laye HAPPY SANKRANTi.

Deepavali is Light ful! PONGAL is sweet ful! Holi is colour ful, Love is beautiful!  BUT Friendship is power ful. Happy Pongal & Sankaranti.

TIL hum hai, aur GUL aap,
MITHAI hum hai aur MITHAS aap,
SAAL ke pahale tyohar se ho rahi aaj SHURUWAT.
Aap ko hamari taraf se.
*HAPPY MAKAR SANKRANT*

Mandir ki ghanti, Arti ki thali,
Nadi k kinare suraj ki lali,
Jindige me aye khushiyo ki bahar,
Apko mubarak ho sankrant ka tyohar.
Also Check:
I hope you like this post that is regarding Makar sankranti and wishes for your friend.